Exposure to Great USA Stylists and Salon Owners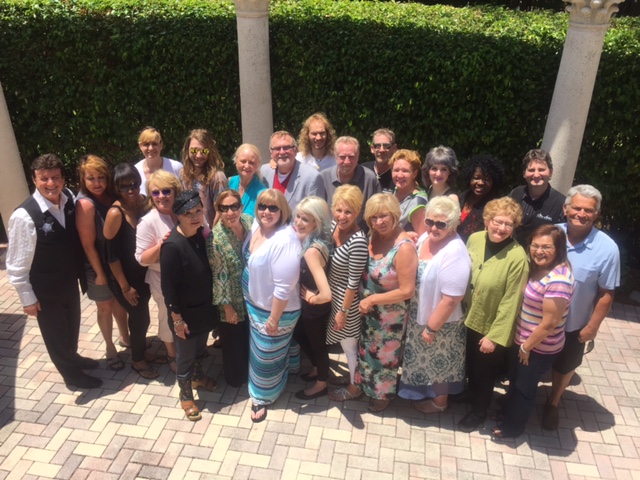 Networking among top stylists, viewing their work, interacting with them at John Amico's school and events, as well as beauty industry events is very important. The John Amico School is a well-respected educational facility in the beauty community and is affiliated with a network of Artists and Owners who want to be associated with the John Amico school and staff. John Amico is not only respected as a Top Artist, but a Salon Business Expert as well. Remember, if you want to become a top stylist you need to associate with the best stylists and educators.
The Business of Beauty- Learn From the Master
All schools can teach you how to do hair to make a living in the hair business. John Amico teaches you 'THE BUSINESS OF HAIR'. Each week he holds a session for the entire school called "Who Wants to Be a Millionaire." He gives 'real life' discussions on how can you make more than just a living, but a fortune in the Business of Hair. Your success will be based on more than just the best technical training, but your business and people skills as well. He also gives you real life "How-to Tips", which are from the 50 plus years and having owned 425 Salons in his lifetime. He teaches you systems to successfully operate any division of the beauty business. From salon site selection, lease negotiation, buying of equipment, hiring of staff, compensation schedules, advertising, marketing and on-going training and business support. He will recommend what's right for you when you graduate and you are always welcome to come in and discuss your business plan. Also John,Jr., has a Masters in Business and will be happy to share advice on how to grow your business in beauty.
In-Salon Experience
Our School has the clientele for you to learn and earn a great education. We have legacy clients who have been coming for as many as 50 years. We have alumni who have retired and now are even clients at the John Amico School. Our school has a prime location with hundreds of thousand of cars passing every week. Unlike most schools we have a tremendous amount of weekly clients who want the newest and latest, not to mention some of old stand bys which give us the foundational styles. We service our clients with cuts, styles, hair color, Keratin, braids, extensions and even creating full sew-ins. Come in and see the amazing creations our students perform on our loyal clients. John Amico is always on the cutting edge of trends and is continually incorporating the newest and the latest.
Professional Image and The Look
John Amico has developed a beauty environment for clients and the students. The newest creation is his Spa Campus with beautiful equipment with state-of-the-art facilities.
One-on-One education
The John Amico educators pride themselves in working directly with each student. Unlike a large chain or multi-unit school, John Amico is on hand at the schools many times for days on end. He works with his educators and discusses your progress and gives advice on how to maximize your talent and potential.
Looking Beautiful Yourself
Unlike many schools you are not charged for any of your personal services. Hair color, relaxers, cuts, bleaching… you name it- all services are complimentary for his students. You may wonder why, since the other schools charge their students. The reason is that John Amico wants you to have a complete education and be totally immersed in the beauty industry. What is more complete than you getting your hair done all the time to look good? He is not worried about the money, but about your education. When you look good, you feel good and you build more self-esteem and self-confidence with your personal beauty.
The John Amico Products and Kits
John Amico Professional Products are used by thousands and thousands of professionals in some of the most upscale salons. You will receive collections for your personal home use. Also, with every service that you do, John Amico supplies you with the products. We partner with the top companies in product and color systems. This includes – P&G Professional, Wella Professionals for color and styling products, and Professional Sebastian. You'll start out working with and learning how to sell dynamic product lines that will increase your future sales. Our Cosmetology kit contains high quality professional equipment, featuring Imported Shears, blow-dryers and flat-irons, brushes, combs and clips. Kit items subject to change at any time, in order to keep current with industry trends and technology.
Getting Your License
In 2014, our students had a 98% licensing rate in the State of Illinois- far exceeding the general applying student from other schools. The historical rate posted monthly by Continental Testing is between 18 to 20% of the students from other schools are failing. At John Amico we are proud of our student record of success. We have one of, if not the highest, records of successful students passing the boards and getting their license.
Versatile, well-networked graduates.
The best salons want the best graduating students who can do haircutting, highlighting, hair coloring, Keratin treatments, hair styling and chemical texturizing. Like other industries, they want students who are comfortable, social, networked, and highly-skilled. Being associated as a John Amico alumni or current graduate affords you a network of thousands of salons that rely on our school for its graduates and the John Amico exclusive hair care products. However, you need to prepare to get that dream job. It is all up to you.
The John Amico Priceless Difference – One Step at a Time- The Process
John Amico is an award winning stylist and salon icon who is consistently on the cutting edge of fashion. His friends, family and business associates all share in his passion, as well as their own, for the Cosmetology Industry. As a John Amico student, our Oak Forest Campus is the ONLY basic cosmetology school, so we are focused on YOU. Our personalized training will teach you what's on the runways today in cutting, designing, coloring, hair additions and texture services. We start you out on a fast track. From day one, you will begin to perform hands-on workshops, working on your new best friends- your mannequins. As John says, "We only have 1500 hours and it is so important that we train your eyes, hands, head and heart as soon as possible, into creating image-making statements for your personal clients. You will begin your beauty school education in level one, learning the foundation skills that will prepare you for real life experiences. In level two, you will begin to advance methods along with formulating, creating and applying color. You will begin to adapt the fundamental skills you have learned and add your own passion to complete the line and design for your client. Throughout your cosmetology education, you will also learn the latest American and European techniques. John has a manufacturing plant in Italy where he creates many of his products and Organic Italian Hair Color. You will learn "You Are the Greatest" in the John Amico self-esteem training, as well as the art of client communications.
As a level three, four and five, you have breakout classes and certifications continue in hair extensions, hair coloring formulations, hair cutting and styling. As students, you will continue to perfect your skills while preparing for your salon-ready school graduation. Our classes will also feature business training, conducted by John Amico,Jr., who has his graduate degree from DePaul University. These classes are geared to prepare you for the beauty business or possibly owning a salon or spa. Thus, being able to focus all your energies into your profession is one of the most rewarding aspects of being a cosmetologist while "Enriching the Lives of Others." Remember, 'Follow Your Passion, Love What You Do and You Will Become a Success', no matter what adversity, objections or difficulties that you will face in life. Life is a "do it for yourself", project. The Positive Mental Attitude you need to possess is, "You Can and You Will Succeed in Life and in Business."