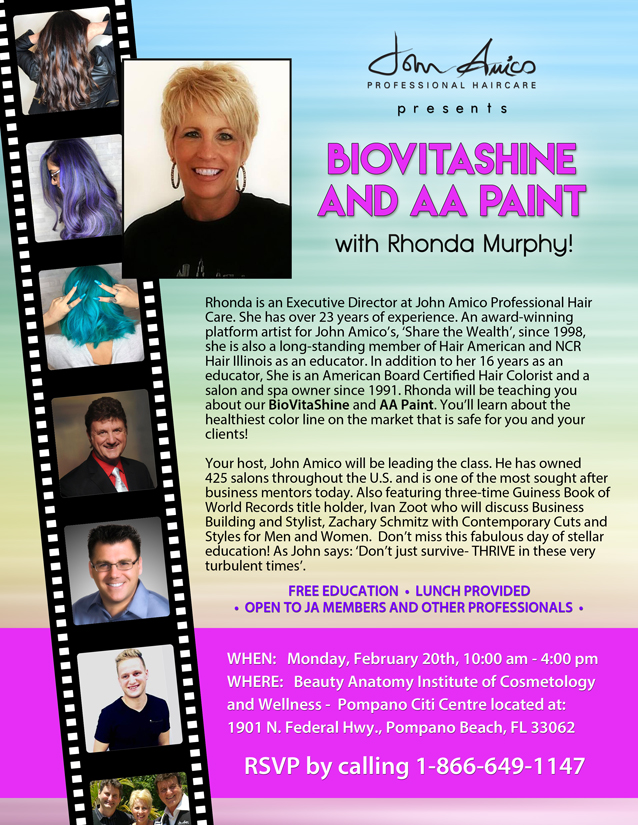 BIOVITASHINE AND AA PAINT
with Rhonda Murphy!
Rhonda is an Executive Director at John Amico Professional Haircare. She has over 23 years of experiences. An award-winning platform artist for John Amico's, 'Share the Wealth ', since 1998, She is also a long-standing member of Hair American and NCR Hair Illinois as an educator. In addition to her 16 years as an educator, She is an American Board Certified Hair Colorist and a salon and spa owner since 1991. Rhonda will be teaching you about our BioVitaShine and AA Paint. You'll learn about the healthiest color line on the market that is safe for you and your clients!
Your host, John Amico will be leading the class. He has owned 425 salons throughout the U.S. and is one of the most sought after business mentors today. Also featuring three-time Guiness Book of World Records title holder, Ivan Zoot who will discuss Business Building and Stylist, Zachary Schmitz with Contemporary Cuts and Styles for Men and Women. 'Don't miss this fabulous day of stellar education! As John says: 'Don't just survive- THRIVE in these very turbulent times'.
---