SKIN CARE:
     Primer
     Moisturizer
     Setting Spray
     Eye Cream
FACE:
Liquid Foundation
Powder Foundation
Concealer
Highlighter
Blush
Blending Sponges
Palette of Bronzers
Contour Cream
EYES:
Shadow Palettes
Eye Liner
Pigments
Eyebrow Pencil
Setting Gel for Brows
Lashes and Adhesive
Mascara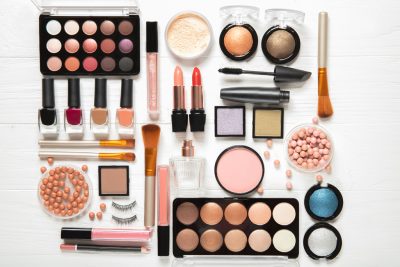 LIPS:
Lip Scrub
Lip Pencil
Lipstick
Lip Gloss
TOOLS:
Makeup Brushes
Tweezers
Lash Curler
Q-tips
Scissors
Hand Mirror
Foam Wedges
Sharpener for Makeup Pencils
Makeup Brush Cleaner
Disposable Applicators
Makeup Wipes
Shields for Shadow
Tissue
These are most of the things you should have in your beauty toolbox. If you're going to use your camera or phone for photos, make sure you have whatever you need to keep them charged. A lighted makeup mirror is a must have in our opinion. Ring lights can be inexpensive depending on the size. And if you're planning on doing this as a business, don't forget to have professional business cards made.
To enroll in our Esthetics Program, text 'MAKEUP' to 708-631-2521. You can become licensed in as little as 6 months!