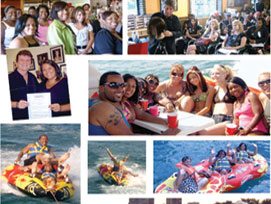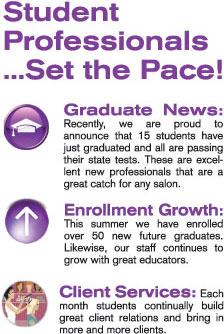 Student Professionals
Set the place!
Graduate News: Recently, We are proud to announce that 15 students have just graduated and all are passing their state testes. These are excellent new professionals that are a great catch for any salon.
Enrollment Growth: This summer we have enrolled over 50 new future graduates Likewise, our staff continues to grow with great educator
Client Services: Each month students continually build great client relations and bring in more and more clients
The students are performing great color, outstanding highlights, chemical texturizng along with exciting styling (everything from extensions to weavings are toping the lists). Back to school was very successful with hundreds of cuts, color and styles done.
The students had a contest for the most client requests, most clients done in the first 3 weeks of August including rental sales. The winning 10 students went on a success cruise in Lake Michigan with John, Elaine and Captain Johnny. You will be able to see many of the students previewing their hair color work on the models for the guest artists at Chicago and Chicago Here are pictures from the boat trip and in-school activities