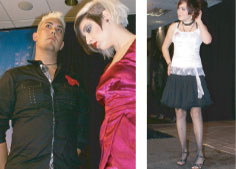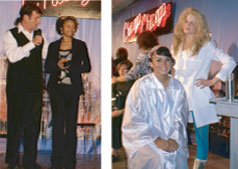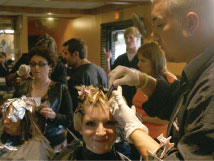 Students Outperforms Chicago!
Beauty Show
Before, during and after Chicago Chicago Beauty Show the students did a great job locating models, preparing and applying color and in some cases even modeling. Many of the students worked directly with the guest artists at the school plus behind stage in the model's room. Being behind stage was fun and different. One example was Yenz leaching the models how to move and dance the Tango. You could see in their eyes they were not sure, but somehow it worked. They would get cut on stage as if they had been doing it their whole life.
Marry of the students were amazed at how great the educators were time and time again, I heard..."this was way more than I ever expected. I'm so amazed at the level of workmanship."Eric Estrada, a night student who modeled and also did models said, I'm so glad that I was able to take off work for 5 days for the model prep work and the show. I learned so much that I could not make it up unless I were there in the midst of the action."
The graduates had an opportunity to grace the stage and receive their final graduation award. It is a wonderful send off for them to take their careers to another level. Having the opportunity to see these students growing is a terrific testimonial to all of the educators at the John Amico School Of Hair Design . If any of our salon owners need great aspiring stylists, please call or email John Amico SR.