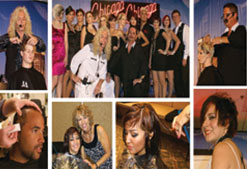 During the month of September six students took the Illinois. State Exam and all scored well over the 75% needed to pass. They scored 80, 84, 87, 90, 92, and 93. This was an outstanding achievement and a credit to their motivation, education and inspiration of a each student. We are awaiting the news on our October grads and it look like a repeat performance.
Congratulations to the staff that plays such a big part in the mentioning of these fine students.
Students at the school can earn extra private grant based on their performance. They must achieve a 90% attendance rate, 80% GPA on tests and complete the 1500 hour course. If you do the right thing then you are rewarded. These rewards save students a thousand dollars. The funds go to those that deserve it.
The great news about John Amico School is that of all the students that have graduated in the last 2 years...they most have earned their private school grant. Today, many of our member salons are plugging into our graduates both locally and nationally. If you have a need for an excellently-trained graduate student who know Jalyd Color, Foiling, Keratin Treatments, Chemicals and more-email or call us. Take advantage of our quality educated young professionals. Also, if you have any family or friends that would like to go to the John Amico School of Hair Design, have them contact us so they can take advantage of our Grant Program and receive a fine education. Call John Amico School of Hair Design at 1-708-687-7800 or email [email protected]