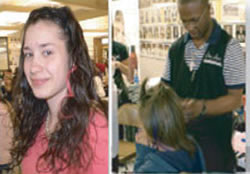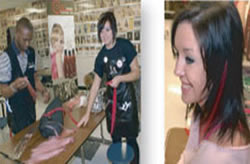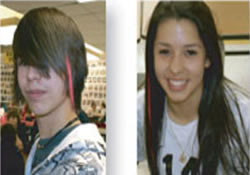 Fighting Cancer with

Pink Hair Extensions
On April19, 2010, the Oak Forest High School Badminton Team, the John Amico School of Hair Design and SOCAP USA Hair Extension offered a way to join in the fight against cancer. Students from the John Amico School of Hair Design applied pink extensions to the students of Oak Forest High School for a $5 donation. The group raised nearly $1,000 in T-Shirt sales and pink hair extensions. The money raised was donated to Relay for Life by the American Cancer Society.
"Wearing a pink hair extension is an innovative way to show your support for such a wonderful and serious cause," said John Amico Sr., founder of the John Amico School of Hair Design. John also states, "These colorful hair extensions are a great way to celebrate the life of a loved one lost to cancer while helping to fight back by raising much-needed funds. Two are better than one, and they are a lot of fun to wear. The More You Wear, the More You Care." SOCAP USA donated the extensions for the event and are a dedicated supporter for the fight against cancer.
Students pictured in ACTION having fun raising money for a great cause.
John Amico SR founded John Amico School of Hair Design in 1965. The Oak Forest Campus was opened in 1979 and relocated to its present location in 1985. The school is a Cutting-edge learning environment where students receive instruction not only in the technical skills of hairstyling, skin care and nail care, but also in business management, ownership training and leadership. Today, John Amico dedicates his time to students and professionals by sharing his knowledge acquired through a lifetime of experience, to help students begin a professional career in the Beauty Industry.