American Beauty Show 2013 McCormick Place Chicago IL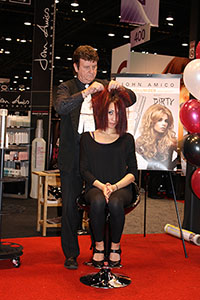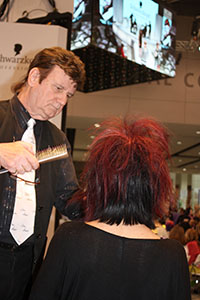 This year, John Amico Hair Care, John Amico School of Cosmetology, School of barbering took America's Beauty Show by storm March 9-11 with a larger stage presentation than ever. The national show was held in downtown Chicago and annually brings more than 60,000 salon stylists, salon owners, beauty school students, Cosmetology school teachers, hairstyling professionals and 400 exhibitors. For three days salon buyers, beauty owners, employees, beauty experts, beauty school students, cosmetology school educators and industry hair stylist's professionals gather to learn from the best in beauty.
The John Amico expanded his booth which featured a stage with continuous of John Amico beauty school students performing as well as his alumni who are working in some of Chicago's finest salons.
Cosmetology school educators from other schools marveled at the talented John Amico cosmetology students as they performed.
John's alumni and team salon members prepared their models at the John Amico's Beauty Academy and did performances of John Amico's (Keratin, Volume Boost Powder and OMBRE to name just a few) as well as displays featuring new John Amico Natural hair care products, Tondeo, John Amico Salon Software, custom color formulations and more. John Amico cosmetology school students, many top hair stylists including educators of John Amico and salon members of John Amico combined their time and shared their talents at the very best America Beauty Show yet.
Comments from the best of the best were excited to see the John Amico cosmetology school students perform at McCormick place with such ease. The other beauty school students, beauty academy professionals and other cosmetology school students were happy to meet John and network among his 10,000 salon professionals who carry his products.
The next big event will be the John Amico School's Cosmetology Students competition in June. They will be creating a collection of out of the box creative hair design not seen in most beauty schools. The reason is most clients want wearable styles. Yet, this gives our beauty school students at John Amico a full experience to create fantasy styles. Shows, Competitions, field trip, visiting with international Hair Styling Academy stylists make it a well rounded education for John's Cosmetology School Students.