2013 January Educational Cruise
John Amico's Annual Educational Caribbean Cruise Combining Education and Relaxation
The following article was featured in Modern Salon Magazine the Top Beauty Industry Publication. It featured the John Amico Annual Educational Cruise to the Caribbean. The annual cruise in January is attended by Beauty School alumni of the John Amico School, Cosmetology salon owners and beauty professionals who use and endorse the John Amico products in thousands of salons. Here is the article discussing the wonderful beauty education.

John Amico Haircare hosted a seven-day Caribbean cruise aboard the Princess Cruise Lines' Caribbean Princess. The tropical get-away included daily educational classes featuring leading
industry trainers. Speakers included Jamie Carroll, Global Salon Business Award winner and director of education for modernsalonlearning.com; Geno Stampora, member of the NAHA Hall of Leaders, Fred Dengler, founder and president of Mikal Corporation and John Amico Sr. and John Amico, Jr. Each speaker brought a unique perspective to technical and business education.
The voyage included stops at the ports of Princess Cays, Curacao and Aruba. The ship offered five-star dining, entertainment, shopping and more.
The stylists and John Amico Alumni who participated in the cruise had the opportunity to earn a portion of their trip through John Amico product sales. The highest achievers qualified for a free cruise.
John Amico Jr., President, John Amico Haircare, said, "The Company is poised for tremendous growth in 2013 and this was the perfect way to kick off a fabulous year!" Visit johnamico.com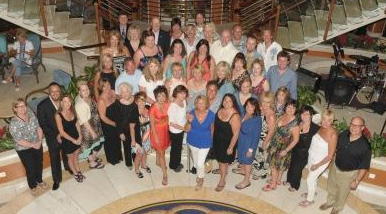 The above photo captured just a small part of this exciting event. In January, 2014 the Annual Beauty Educational Cruise will be sailing on the newest and largest Royal Princess Ship to the eastern Caribbean. The ports of call are St. Thomas, St. Marteen and Princess Cay Islands plus hosting many island excursions. The wonderful classes will be focused on beauty, hair, salon business, nails, skin care, esthetics and spa management classes. These classes will be held on the sea days and before the ships ports so as not to miss any of the shore excitement. This is the perfect education venue for the seasoned beauty professional. If you are new to the beauty industry you can to continue your beauty school, cosmetology school or hair school education with these fine Beauty Industry Leaders.
Below see selected photos of some of the educational, deserved relaxation and wonderful vacation.