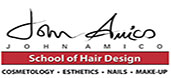 At John Amico School of Hair Design we believe:
You should never doubt that a small group of thoughtful, committed people can change the world. Indeed, it is the only thing that ever has changed the world.
Educating our future professionals is one of the most exciting and rewarding careers anyone can have. The enthusiasm of their eager and open minds makes it a gift to work with them. The passion that they have in working with our salon clients is the same passion that they have coming into school.
Today's student is much better versed in fashion and how that impacts the business than in years past. Just 10 years ago, it was an entirely different world. Why? Because of all the information and knowledge that is available on line. During orientation we ask the students, "how many of you are doing family and friends' hair?" Amazingly almost 50% raise their hands. They have learned things on YouTube and other places on the Internet. It may not always be right but they'll have 100% fashion awareness.
That translates into a better informed and educated student of the future. At our school we have uploaded their entire course, textbook, workbook, DVD's, Mock, Unit, and Final Tests. We also include the State Board Mock Test. All of this gives our students 24/7 access to education. We recognize that they are on the web more than almost anything else. Being where they are just makes sense. So whether it's using their 3G, 4G, IPAD, laptop or computer they have their Educational Artist Access always available—anytime, anywhere. We are seeing great strides in education.
But as much as we recognize how important it is to be high tech, we also realize that we must remain high touch. We help stimulate the students' passion and hold competitions every week. The photos here are a combination of several different types of competitions. Some are long hair evening wear; others are themes such as Mardi Gras. The engagement of the student today is so important because their attention spans are faster and shorter than ever before. They are in the electronic age and their desire for verbal communication is lessened because they prefer to text than talk. They don't even like to use voice mail since it's not as quick as texting. They can hold four conversations at once by texting so as an Educational Fashion School…we need to educate our students in the manner that they want to learn. Engagement really sets the pace and keeps them focused. The results are beautiful work and having them end up with a rewarding career in Cosmetology.
We'll have a great Student and Alumni Folliap Design Team at the America's Beauty Show at McCormick Place March 4 and 5. Our student body will also attend the show to get more exposure and education to become a better John Amico student and graduate.
If you're a salon owner looking for talented young professionals call our student services at 708-687-7800 and we'll be happy to recommend one of our future top stylists.




Pictured [L to R]: Miss Mari, Carice Miller, Knice Miller, Vanessa Wesco, Erik Trznaclel, Theresa Fourbe, Samamtha Jiminez, Jahmal Claxion and johm Amico
Pictured [L to R]: Samamtha Jiminez, Knice Miller Amico




Pictured [L to R]:John Amico, Vanessa Wesco,Synobia Dawins,Theresa Fourbe, Maura Ibarra, Knice Miller, Samamtha Jiminez, Erik Trznaclel, Carice Miller, Miss Mari
Pictured [L to R]:Knice Miller, Theresa Fourbe, Maura Ibarra




Pictured [L to R]:Kim Santor, Lvy Tyler, Diamond Corbin, Leticis Philips, Norel Tatum, Tiara Bankhed, Cylver Smith, Regina Turner, Evelyn Mapp, Leonie Walton, Sarah Pancham, Bernica Sanchez
Pictured [L to R]:Kim Santor, Lvy Tyler, Diamond Corbin, Leticis Philips, Norel Tatum, Tiara Bankhed, Cylver Smith, Regina Turner, Evelyn Mapp, Leonie Walton, Sarah Pancham, Bernica Sanchez