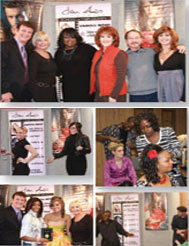 On November 30, 2010, the school had a competition that was exciting, creative and well done. There were 4 divisions Designer 01 to 500 hours, Senior Designer 501 to 1000, and Master Designer 1001 to 1500 hours. There was also a Gents division. There were 12 winners. 3i n each division. We had great judge who took their time out of their business lives to judge, who are salon owners and nationally known stylists. Thanks to Marian Archie, Kathy Jager, Ron Andersen, and Lynne Viliaros.
The students spent a number of weeks selecting models, clothing, styles and color. Any student who got involved and competed was a success. They had a goal and completed it, even if they didn't place they still won. Plus, they stretched themselves and learned a lot from the experience. Way to Go Future JA Graduates
This experience is the same for salon professionals when it comes to new and different areas of the business, stretch yourself and watch the success that you will have in your career, If could be a new location, more services, and new services such as the True Keratin. Well, just talk about that. at our school we are averaging 5 to 10 Keratin Treatments a week. Not bad for a school. So if you have never tried it as a professional now is the time. The great part of the True Keratin it is not dangerous like the others with very mild formulas.
So the next time you want to spread your wings but you are not sure just think about how our young industry professionals JUST DO IT. What is the worst thing that can happen if it tails...you can always fix it. Remember what Cardinal Newman said "if a man waited until his project was perfect...than nothing would ever get done."Just Do it.
For more information and to hire our graduates call John Amico School of Hair Design at 1-708-687-7800 or email [email protected]