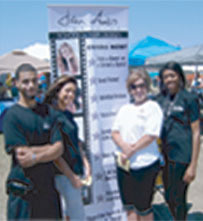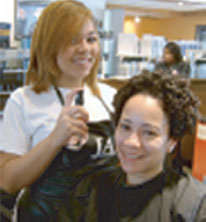 Salon Owners
Students Are Salon Ready
Sound like I am bragging...well I am. Wouldn't you? When you see their greats cuts, color, highlights, relaxers, perms, and clients wooing over their hair. Last Saturday, I asked Cynthia, "how many clients did you do?" She said, "20." Yes that's right 20...before you fall off your chair many were style cuts and a number were men's cuts...but come on. How many professionals can do good work on 20 clients? Right next to her was Fallon. "How many?" I asked. "15 clients." WOW! Now between braiding, flat Iron and blow-dry styling many students will do 5 to 10 on a busy day. Just think how they are going to set the world on fire. Yes, we do have mannequin work but my belief has been...there is nothing like the real thing when you are in school. That means working on clients with different needs, hair types, color and texture. Every day we are teaching and presenting the newest and the latest trends. So, I know they have had enough of the real salon world experience before we let them fly out of the nest!
What does all that mean? THEY ARE SALON-READY WHEN THEY WALK OUT THE DOOR INTO YOUR SALON. Don't let this talent pool leave you behind. Call, make an appointment, come in and review their work and you will be surprised. This is no ordinary school. This is the Harvard Of Hair yet with a Fashion Edge Curriculum.
If you are out-of-state figure out how you can have them transferred to your area. Some might love to relocate and others may want to stay here in Chicago. You can even e-mail me with your job opening and we will post them. We are just about to finish training Nicole Mullen, who has been with us for just under a year from the State of Washington, she will be returning to Seattle to begin her career.
Want to meet them... easy enough come to Chicago Chicago 2010, see them in action assisting the guest artists and you will be WOWED with their beautiful foiling and texturizing that they have pre-done on the models for educators. E-mail me at:[email protected] I invite you to check out our school's education or if you know someone referrals. Go to www.johnamicoschoolofhairdesign.com for more information.
Looking forward to seeing you at Chicago Chicago Beauty Show